There are two types of copywriter in the world... those who feel comfortable writing high-pressure, hyped-up sales copy... and those who don't.
If you fall into that second group, keep reading...
If you don't like hype, you're going to love conversational copywriting.
And luckily for you, conversational copywriting is the future of selling online.
How come? Because today's online consumers don't like pushy, loud sales pitches.
They don't like being sold AT in the old-school, in-your-face, broadcast style.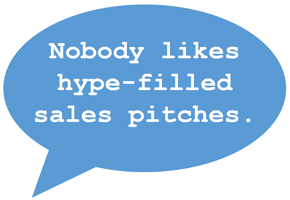 This is why so many people install ad-blockers, and why online conversion rates are so low. Prospects are just turned off by that traditional copywriting approach.
Sooo....
If you can't sell with traditional sales copy, how CAN you sell online?

Make the sale with conversational copywriting.
With conversational copywriting you're not selling or talking AT your audience.
You're writing in a way that engages WITH your audience. It's more respectful. It's the anti-hype.
It's about engaging your audience more fully, connecting with them emotionally, and drawing them into a place where they feel ready to buy your product or service.
What you can expect from this course...
Over the course of 21 instructional videos - plus BONUS materials - I'll take you through numerous before and after examples, and over half a dozen homework exercises.

I'll teach you how to write conversational sales copy that creates a powerful desire for the products or services you're selling, and converts more browsers into buyers.
You'll learn how to...
(The complete curriculum is shown below.)
"Conversational writing suits my style & personality much better than 'traditional' copywriting, so I'm sure I'll be putting the info in this course to good use! Thanks again." Toni Milne

"The course was great. I learned a lot. The homework was FABULOUS FUN. I keep redoing the tasks to see if I can get them shorter. That's only because I tend to talk. . .and talk. Conversationally speaking, this course is worth the bucks." Holly Helscher
When you've finished every lecture and the bonus materials...
Stay tuned, because I'll be adding more lectures and bonus materials on an ongoing basis. Pay once - right now - and you'll have access to the course forever... even as the value keeps rising with all the extra materials I'll be adding.
Become part of the community that's growing up around this course.
We gather together in a private Facebook group where we ask and answer questions, share insights, ask for and offer help... and a whole lot more.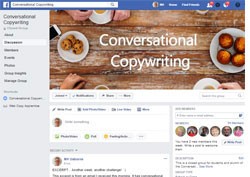 This group is open to you from the moment you enroll.
And you're invited to stay after you complete the course. That way you'll be there for new students as they start their own journeys.
This is a powerful community of copywriters who believe in a better way to sell online.

"Having a group like this with the opportunity to engage in 'conversations' with both you and the other students, shifts this course in a significant way from 'information' to 'education." This is a massive difference and adds tremendous value. Thank you Nick!"

Jim Wright
The price of entry?
The ORIGINAL price of this course was a modest $189. Not so very much for in-depth training in what is, essentially, the future of selling online.
But right now you can dive in for the reduced price of just $145 - a saving of over 20%.
Or, if you prefer, you can opt for three monthly payments of $54.

PLUS... Order now and get your FREE download of my Web Content Optimization course.
This is the 97-page, PDF version of my full-length course on web content optimization.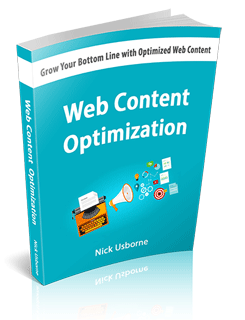 Work through all 97 pages at your own pace and you'll…
It's the perfect complement to what you'll learn during the Conversational Copywriting course.
On its own, this download sells for $44.95. Today you'll get it FREE when you sign up for Conversational Copywriting.
You want to do this, but...
I bet you're a bit like me: hungry to learn new skills, but worried you'll be signing up for yet another course you don't even finish.
No worries.
If you enroll in the course right now, you can always ask for a full refund at any time within the next 30 days.

One more thing... don't let one unanswered question get in the way of your future.
If you have any questions you'd like to ask about this course before enrolling, please email me at nick@conversationalcopywriting.com. I'll get back to you as quickly as I can.
Conversational copywriting is the future of selling online... and the time to build your expertise in this area is right now.
"I just completed the course and I highly recommend it to any writer that wants to learn to write conversationally." Stephen Wertzbaugher

"He demonstrates how to create "emotional" connections via conversational copy, and how this is the future of selling online. I appreciate Nick's insights; and his logical, matter-of-fact delivery. Thank-you so much!" Constance Revoldt